Mengusir zombi dengan menggunakan tanaman? Sepertinya ide bagus di game Plants vs Zombies GOTY Edition.
Plants vs. Zombies iadalah game bergenre tower defense yang awalnya dibuat oleh PopCap Games untuk Windows dan OSX. Pertama kali diluncurkan pada tahun 2009, game ini kemudian dibuat ulang menjadi edisi Game of The Year (GOTY)  pada tahun 2012.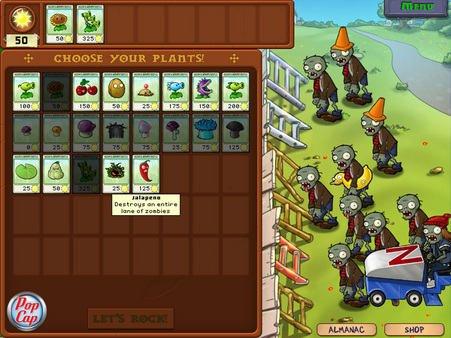 Plants vs Zombies GOTY edition sendiri berisi tambahan konten untuk Plants vs Zombies, di antaranya adalah jumlah prestasi (achievements) yang menjadi 21 dari sebelumnya 20. Yang lainnya adalah desain Dancing Zombie yang sebelumnya mirip Michael Jackson dibuat menjadi  umum karena keberatan dari manajemen Michael Jackson.
Game Plants vs Zombies GOTY edition sendiri sudah menerima banyak penghargaan, di antaranya "Casual Game of the Year" dan "Outstanding Achievement in Game Design" dari Academy of Interactive Arts & Sciences. Plants vs Zombies juga dipilih Gamezebo sebagai salah satu dari 'Best games of 2009'.
GPT yakin gamer PC sebagian besar sudah pernah memainkan Plants vs Zombies. Bagi yang belum silakan dilihat dulu 5 minutes gameplay berikut:
Bagi gamer PC yang ingin bernostalgia, Plants vs Zombies GOTY edition dapat dibeli seharga Rp. 45.999 di Steam.