Return of The Obra Dinn adalah game baru dari Lucas Pope, pengembang yang membuat game indie populer Papers, Please.
The Obra Dinn sendiri adalah nama kapal fiksi yang kembali ke pelabuhan dalam keadaan kosong setelah hilang di lautan. Semua awak kapal telah tewas atau hilang, dan adalah tugas gamer PC sebagai penyelidik asuransi untuk memeriksa kapal dan mencari tahu keadaan awak kapal agar keluarganya dapat menerima pembayaran asuransi.
Istilah "penyelidik asuransi" sendiri mengingatkan kita akan game Lucas Pope sebelumnya yaitu Papers, Please dalam hal urusan dengan dokumen dan berkas. Namun sepertinya Return of The Obra Dinn akan lebih interaktif.
Gamer PC akan menjelajahi kapal, menemukan mayat awak kapal, dan melihat kilas balik saat meninggal dunia awal kapal tersebut. Gaya game Return of the Obra Dinn yang hitam-putih dan sekilas mirip pixel art menambah penasaran akan jalannya game tersebut.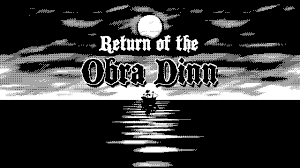 Game ini sendiri sudah memiliki laman Steam dan baru akan dijual sekitar musim gugur di belahan bumi utara. Sedangkan bagi gamer PC yang penasaran dengan game Papers, Please silakan join GPT Club untuk mencobanya.