Ahh…Windows 10. Adik bungsu dari OS yang paling populer untuk PC ini memang sedang naik daun. Penyebabnya, apalagi kalau bukan karena berbagai fitur terbaru yang ditanamkan, termasuk salah satunya Windows Store yang memungkinkan gamer PC membeli berbagai game PC terbaik di sana.
Ternyata fitur Windows Store ini juga mengundang pro-kontra di kalangan gamer PC. Salah satunya karena game Fable Legends yang dikabarkan akan dirilis eksklusif melalui kanal tersebut.
Tentu gamer PC masih ingat game Fable. Dikembangkan oleh Lionhead Studios dan diterbitkan oleh Microsoft, game ini merupakan RPG Aksi yang memungkinkan kita memilih sisi kehidupan yang ingin kita jalani.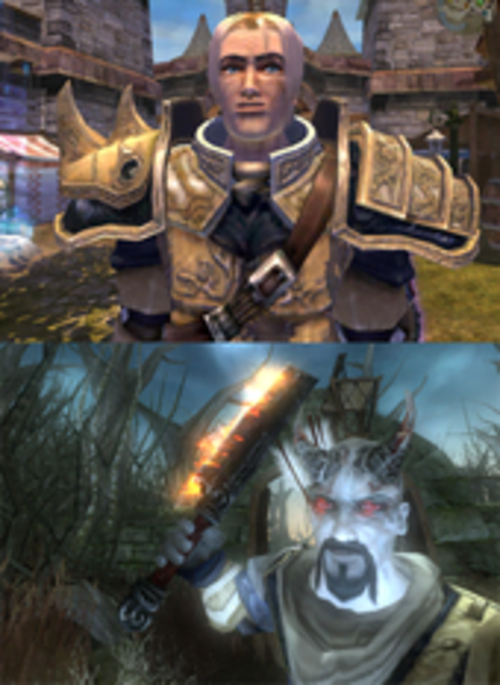 Ada 2 sisi pilihan yang akan dimunculkan sepanjang game: baik dan jahat. Pahlawan sisi baik akan memiliki penampilan dan kekuatan yang berbeda dengan pahlawan sisi jahat. Namun demikian, gamer PC dapat memilih dan menjadi salah satu dari kedua sisi tersebut untuk menuntaskan game.
Rumor ini muncul karena pernyataan dari Lauran, koordinator media sosial untuk Lionhead Studios dalam salah satu twitnya:
@sertificationNu I think you may have answered your own question there 😉 It will be on Windows 10 but not Steam, sorry!

— Lauran 🦁 (@TheAlbionGirl) August 24, 2015
Rupanya pernyataan ini menjadi viral dan diasumsikan bahwa game Fable Legends hanya eksklusif untuk Windows 10 dan tidak dijual di manapun, bahkan di Steam sekalipun.
Bagi gamer PC yang sudah mendapatkan upgrade gratis ke Windows 10, tentunya ini merupakan berita gembira. Karena Fable Legends bermodus free-to-play, yang artinya gamer PC tidak perlu mengeluarkan uang untuk membeli game ini. Kecuali–tentu saja–jika ingin membeli barang atau upgrade di dalam game.
Mari kita tunggu dan lihat bagaimana kelanjutan rumor ini apakah benar adanya.