Semakin maju era digital, semakin kabur batas-batas yang telah ada sebelumnya. Hal ini mungkin juga cocok untuk dunia game saat ini.
Sebelum era digital, gamer biasanya terbagi menjadi 2 kubu. Gamer PC dan gamer konsol. Gamer PC bisa dibilang merupakan "ras gamer" tertua, sudah ada sejak era 70-an (sehingga mungkin layak mendapat julukan "PC Master Race"). Gamer konsol mulai ada sekitar era 80-an dengan Atari, lalu menyusul Nintendo, Sega, Playstation, Xbox, beserta semua variannya.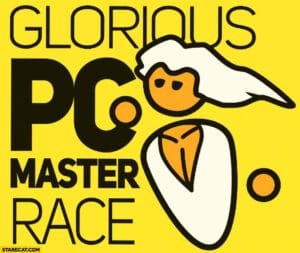 Setelah kehadiran ponsel cerdas di era 2000-an, kini gamer menjadi 3 kubu dengan tambahan gamer seluler. Gamer seluler menggunakan berbagai macam jenis hape.
Seiring kemajuan jaman, sepertinya mulai terjadi konvergensi antarplatform. Dan hal tersebut sepertinya mulai diikuti oleh pengembang game. Salah satu contoh yang menarik adalah seri game God of War.
Bagi gamer yang tidak fanatik dengan salah satu "ras gamer" tentu mengetahui bahwa seri God of War adalah seri game eksklusif konsol Playstation. Diluncurkan pertama kali tahun 2005 di PS2 oleh developer Santa Monica Studio, kini God of War telah memiliki 8 game dalam serinya. Semuanya diterbitkan di platform Playstation.
16 Januari merupakan tonggak bersejarah bagi seri game eksklusif Playstation ini. God of War versi PS4 telah mulai dijual di PC via platform Steam. Menurut SteamDB, pada tanggal 16 Januari ada 73.529 pemain God of War di PC via Steam yang bermain secara serentak. Hal ini merupakan rekor baru bagi game-game Sony yang dijual di Steam.
Lebih mengesankan lagi bahwa God of War di PC telah rilis di Ps4 tahun 2018. Artinya game tersebut sudah berusia 4 tahun ketika masuk PC via Steam.
Selain itu, tanggapan gamer PC juga rata-rata sangat antusias. Terbukti dari rating 97% "Overwhelmingly Positive" di Steam saat artikel ini ditulis.
Kesuksesan God of War di PC via Steam juga memberi harapan baru akan datangnya game-game eksklusif konsol ke PC. Kita tunggu saja seri game eksklusif lainnya, misalnya seri Uncharted, Bloodborne, atau Spider-Man.
Humble Bundle: God of War